Japan is beautiful, time travel is exhausting, and I discovered both as I celebrated twenty years of marriage with my husband.
We experienced sakura snow, skyscrapers no wider than a small room, whale sharks, endless stone steps to reach mountain top fortresses, peaceful shrines, and food that I'm going to attempt to recreate, if only to get a hint of the deliciousness. Often I felt like I was in the middle of a Studio Ghibli set.
As for time travel–we flew out of Japan at 6pm on a Tuesday and arrived home at 4pm on the same Tuesday. My body is still trying to figure out what is day and night.
I am grateful for the twenty years of adventure and joy beside my best friend and husband. He is woven into each of my stories, and even more so into each day of my life.
---
Book Sales and Other News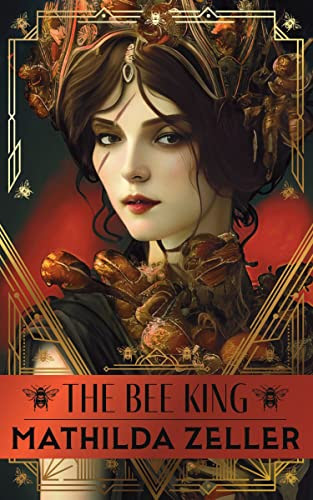 When the crops fail, the monsters come.
When the monsters come, they buy the daughters.
Alice would do anything to keep her sister and cousin out of the hands of the monsters. She would even accept a marriage proposal from the Bee King, the mysterious honey magnate allegedly driving the prosperity of the empire.
But when she arrives at the Apiary, the secluded estate of her betrothed, nothing is as it seems. The empire's wealthy and famous are converging upon the estate and she soon learns that the Bee King is not marrying her for love or lust, but third reason–a dark, strange, and deadly reason.
April is national child abuse prevention month in the United States, and to honor this Mathilda Zeller is donating $2 for every ebook pre-order and $4 for every paperback pre-order in April to Unchained at Last, a nonprofit dedicated to ending child marriage.
Note: This book is in the horror genre, and I have not read it. However, I very much enjoyed the historical fantasy by this author. So if you enjoy well written horror, try The Bee King.

Releases April 20. Pre-order for $0.99.

Twice Upon a Name: Tales of Mix-ups and Mistaken Identities

Double the name and double the magic, mystery, and mayhem
Once upon a time, a fairy tale name generator issued a challenge to a group of authors. Volume Two of these quirky stories brings double trouble.
In this clean YA anthology, spy on thieves discovering their princely identities, accompany villains seeking redemption along with accident-prone geese, and rejoice in the reunion of siblings separated at birth. Side with twins split between good and evil, giggle over mistaken identities, and discover the secrets of royal doppelgängers. When fates are intertwined by a namesake, mayhem and mischief are sure to follow.
Venture into this collection of adventurous stories by award-winning and up-and-coming authors and see if what happens once . . . happens twice!
Pssst…some characters from Once Upon A Name might make a comeback, but the two sets and all stories in them can be read as standalones.
All proceeds from Twice Upon a Name are donated to charity in support of reading and literacy.
I'm looking forward to reading this collection of short stories.
---

Book recommendation
Prisoner of Zenda

I watched an old black and white movie of the Prisoner of Zenda when I was a kid and was enthralled by the swashbuckler adventure. Recently some friends told me about the book. And as always, the book far exceeded the movie.
---